LOYALTY CLUB
Sign up for our Loyalty Program and receive discounts on every order! Members receive the following benefits:
10% Off Any Order!
(only 1 discount per order)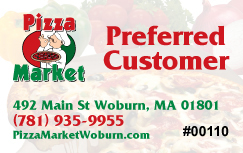 Mondays:
Any XL pizza for the price of a large!
Tuesday:
Up to 2 toppings FREE on any size pizza!
Birthday Parties:
25% Off!
Patriots or Red Sox games:
Free 8 piece order of wings with the purchase of an XL pizza during the game